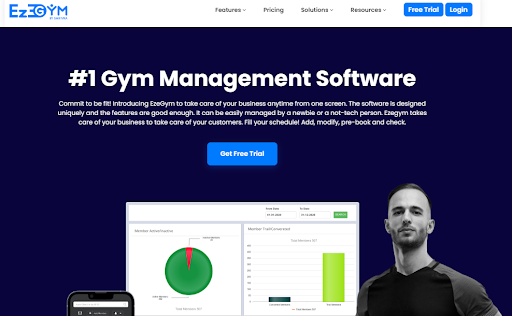 EzeGym- a gym management software received a prestigious industry award from a well-known B2B platform.
FinancesOnline, a renowned B2B review platform, commended EzeGym by presenting the coveted "Rising Star Award," recognizing the software's expanding user base and rising prominence. This esteemed award is granted to emerging business software providers who achieve rapid market validation in the industry.
As part of their evaluation, FinancesOnline thoroughly examined the substantial amount of positive user feedback, and social media mentions as a testament to our product's customer satisfaction. The software experts from FinancesOnline also conducted a detailed EzeGym review. They determined that it streamlines membership management, scheduling, and billing processes, offering a simplified and efficient solution for gym operations.
In their report, FinancesOnline praised the product's comprehensiveness and flexibility, highlighting features such as member management, billing and payment processing, and inventory management.
The review mentioned how EzeGym's member management successfully addresses the challenges of handling a substantial client base, streamlining data, and membership management. By maintaining personalized records and offering customizable memberships, the software guarantees customers feel valued with tailored plans to meet their specific needs. 
Automating attendance tracking, reporting, analytics, and features like online booking contribute to the seamless operation of gyms using the software. These aside, the review lauded EzeGym's ability to significantly improve processes through its automated billing and payment processing system, optimize financial tasks, and eliminate manual record-keeping.
Moreover, the cloud-based platform offers secure access, employing multiple layers of security like two-step authentication and SSL encryption, ensuring customer data remains protected during rapid and consistent transactions. The system's automation complies with the latest taxation and regulatory requirements, reducing errors and simplifying financial tracking from a single screen.
By providing a smooth and secure payment experience, EzeGym streamline gym operations as well as builds customer trust and loyalty, facilitating efficient business management and enhancing the brand image of gyms and fitness centers. Lastly, gym owners know the challenges of managing inventory across multiple branches, but EzeGym simplifies the process, making it much easier to handle. 
The software features an intelligent POS system that efficiently tracks inventory from all locations, providing real-time information on orders, deliveries, material records, sales, and inventory levels. By receiving quantity alerts, businesses can prevent overstocking and ensure a well-maintained supply, enhancing inventory management efficiency. 
With significant disruptions in the health and fitness industry, businesses must assess their performance and discover opportunities. Because of this, gym management tools are increasingly in demand as they help facilities adapt to consumer shifts and shape the future of club management technology.
A report projects the global gym management software market to reach a value of USD 30,470.0 million by 2027, reflecting a substantial growth of USD 16,900.0 million from 2021, with a compound annual growth rate of 14.43%. 
Given EzeGym's superior features and capabilities, the software is swiftly establishing itself as one of the industry's highly sought-after gym management tools. Its remarkable qualities align perfectly with the criteria that review platforms seek for their list of top fitness & gym management tools today.
EzeGym expresses gratitude to FinancesOnline for acknowledging our dedication. Such recognition motivates us to improve our fitness & gym management tools continuously. Our heartfelt thanks also go to our loyal customers, and we assure them of our commitment to delivering premium services and features in the years to come, looking forward to continued partnerships.