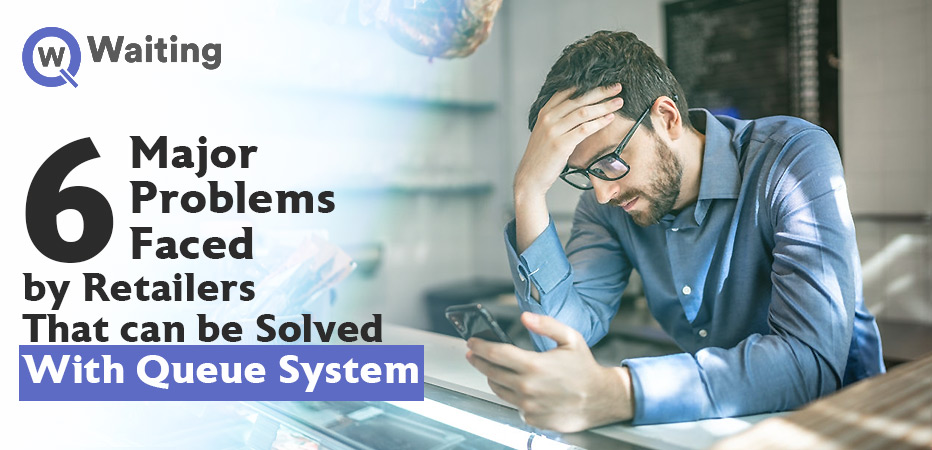 When it comes to the retail industry, it is constantly changing. Employees in this industry are constantly confronted with new obstacles. According to data from previous years, several well-known corporations have declared bankruptcy in recent years. The obstacles multiply throughout this pandemic season, increasing the number of organisations shutting down.
During the festive season, businesses draw a large crowd, and they have significant obstacles in dealing with the crowd promptly. Due to the restricted amount of employees available, serving customers becomes particularly difficult during these periods.
Despite the fact that you have a best-in-class service or product, you will face various problems in terms of improved communication, security, and the need to exceed client expectations.
Many businesses overlook the issue in order to lower consumer wait times. During the COVID-19 period, better queuing is required to reduce traffic congestion in retail stores. It could have a negative impact on the customer's experience, thus might you lose your customers due to long queues.
Some major challenges of retail business and how to overcome them using the queue system are listed below.
A solution to Common Issues Faced by Retailers
Long client lines, regardless of how big your business is, can hurt your bottom line if you don't have the right queue system in place.
The retailer can improve their client experience and gain new insights into how to deliver better service to their customers with this system. It will not only improve the customer experience, but it will also aid to reduce the customer waiting time.
If you're considering whether or not to invest in a retail queue system, here are five things to look for:
Congestion at Retail Stores
We're not talking about a small number of people waiting for their turn, but rather a large number of customers who must wait in huge lines. As a result, as a retailer, you must take every step to clear client queues and avoid congestion, particularly during the pandemic time.
If your firm is experiencing these problems, then you should consider how to make things easier and find a workable solution. No customer indeed wants to be kept waiting for an extended period of time. As a result, you should consider investing in a queue management system that will help you maintain social distance norms while also reducing client wait times.
Lack in Offering Better Customer Experience
Customers who visit a retail store are likely to have already done their purchase on internet shopping platforms. Customers also want the same online experience once they switch to physical stores. If the retailer wants to provide the same experience to their guest as they are getting in the online store, it is essential to move towards technological advancement.
A queue management solution can help to provide a seamless experience to the clients. Retailers can also use the system to get the client profile and launch a loyalty program to reward regular customers. It will directly help to improve the customer experience.
Deteriorating Staff Performance
If your retail store is experiencing inconsistency in queues and you can manage them, it is possible that your customers are having a negative experience.
Large customer lines can result in a poor customer experience. It may have an adverse effect on employee productivity, which may negatively impact your sales.
So, it is critical to have a queue system in place to decrease the burden on staff members. It will make it easier for employees to assess customers' data before they arrive on the premises, and also motivate them to do their best work.
Hard to Manage the Marketing Activities
It is hard for retailers across different sectors to manage modern marketing to engage with their customers across different channels. 
Today, marketing promotions such as email campaigns and social media promos are critical for attracting a big number of customers and increasing sales.
However, using the correct technology, such as a queue system, can help you provide the finest customer service and guarantee that all members of your marketing team are on the same page. It's beneficial to have a clear plan and a single platform that can handle both marketing and customer queues.
Also Read: 7 Hacks to Keep Your Customers Occupied While They Wait
Hard To Collect Customer Data
If merchants are having trouble managing customer lines, they should consider developing tactics to improve the customer experience. Inconsistent service and extended wait times can irritate customers, resulting in a negative customer experience. As a result, technology makes it easier to acquire real-time data and learn more about customers.
Using it, the retailers will have more power on their hands and can take essential steps to overcome all challenges.
Rising Customer Complains
Almost all retail establishments believe that long lines are beneficial to their business. However, it will have a negative impact on the company's brand image and revenues.
Long lines are often seen as a sign of poor management. As a result, businesses must place a greater emphasis on lowering client wait times. Along with the long line, the customer's prospects will be better. You should consider implementing a queue system that will help you reduce wait times and improve client satisfaction. If you keep your customers waiting longer than necessary, they may leave negative remarks on your social media accounts.
Conclusion
For retailers who are facing these issues in their business, it's the right time to take some action. Because if you don't have a plan of action, it will be difficult to sustain. Alternatively, you can look for the right queue system such as Qwaiting to streamline your business operations. It will also change your way to deal with a customer.